Introduction to Garage Door Design in Orange County: Marrying Style and Locale
When it comes to selecting the perfect garage door designs in Orange County, homeowners should consider more than just color and material. The design of your garage door is a statement of your personal style and a reflection of the architectural spirit of your neighborhood. Whether you're nestled in the historic streets of San Clemente or overlooking the ocean in Newport Beach, your garage door should harmonize with its surroundings.
Tailoring Garage Door Design to Orange County's Diverse Towns
Firstly, it's vital to adapt the design to the town's character. For example, a Spanish-style wooden door may complement the classic estates in Santa Ana, while a sleek, glass-panelled design might better suit the modern homes of Irvine. Additionally, coastal towns like Huntington Beach might require materials and designs that stand up to salty sea air.
A Spectrum of Design Styles
Traditional Raised-Panel Doors: A Timeless Choice
In Orange County, where diverse architectural styles are celebrated, traditional raised-panel garage doors remain a favorite. Their symmetrical, raised rectangular panels convey a classic aesthetic that complements a wide range of homes, from the quaint cottages of Tustin to the sprawling estates of Yorba Linda. Moreover, these doors offer versatility in material and color, ensuring a seamless integration with your home's façade. Importantly, they provide enduring appeal without compromising on strength or quality.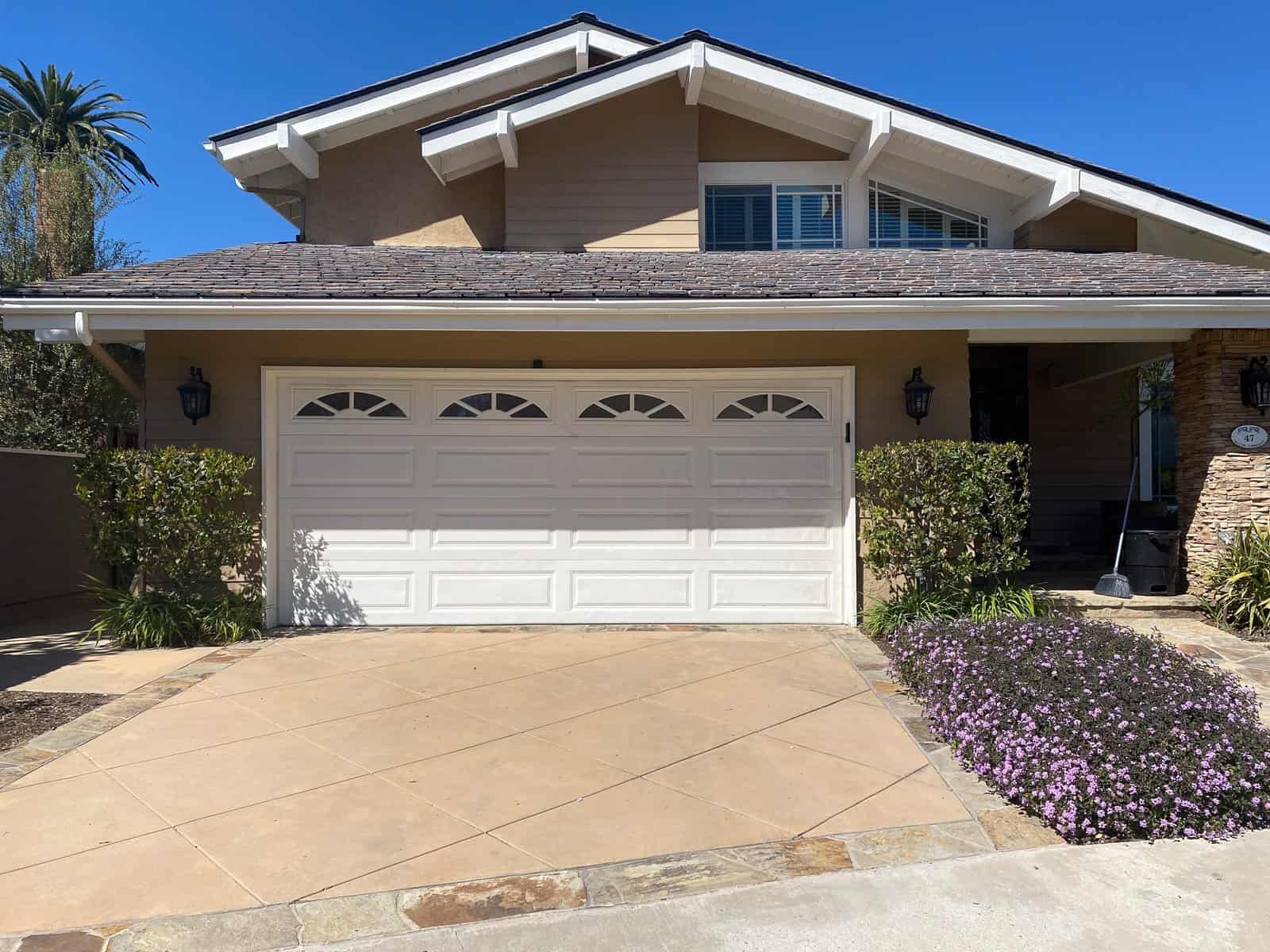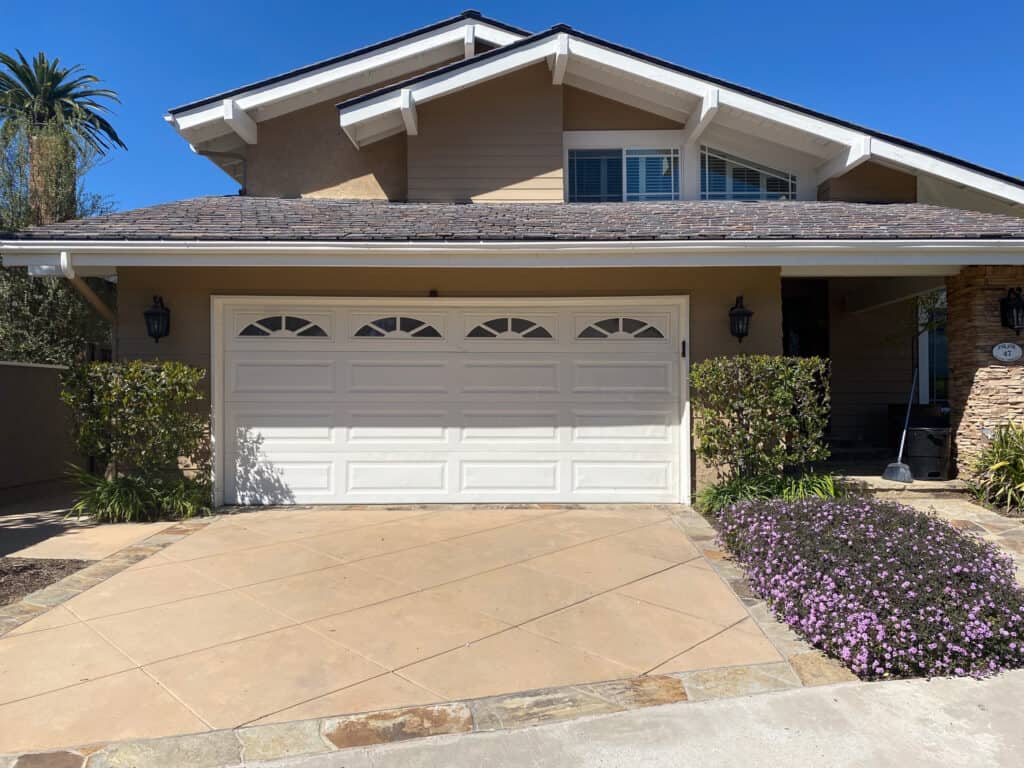 Carriage-House Doors: Vintage Charm Redefined
The charm of a carriage-house garage door is undeniable. They echo the historic doors that once housed horse-drawn carriages, now reimagined for the modern dwelling. In areas like San Juan Capistrano, these doors add a touch of historical elegance, featuring intricate designs, cross beams, and the appearance of hinge straps. Furthermore, they can be customized with windows and hardware to match any home's character, truly making them a nod to the past with present-day functionality.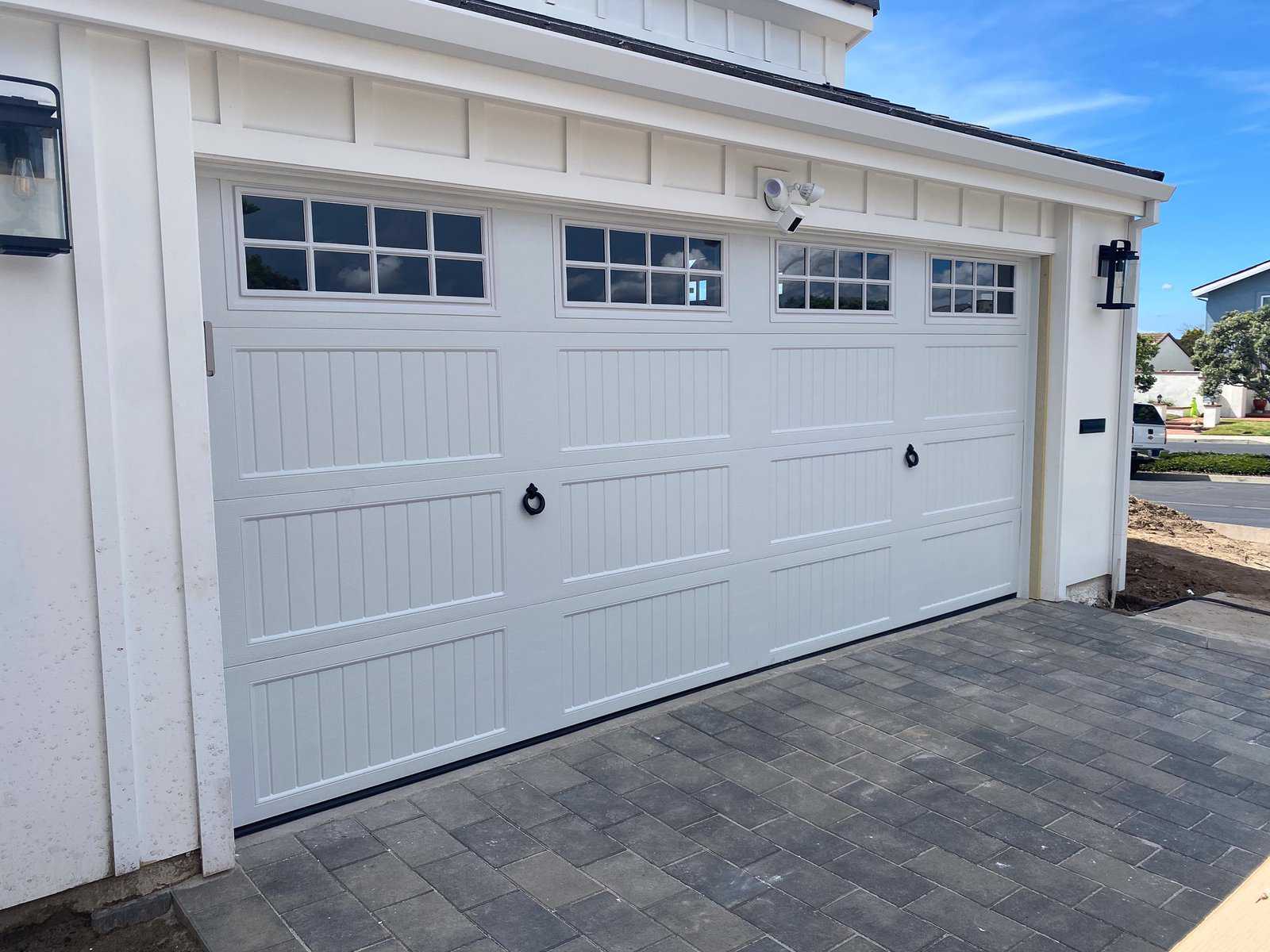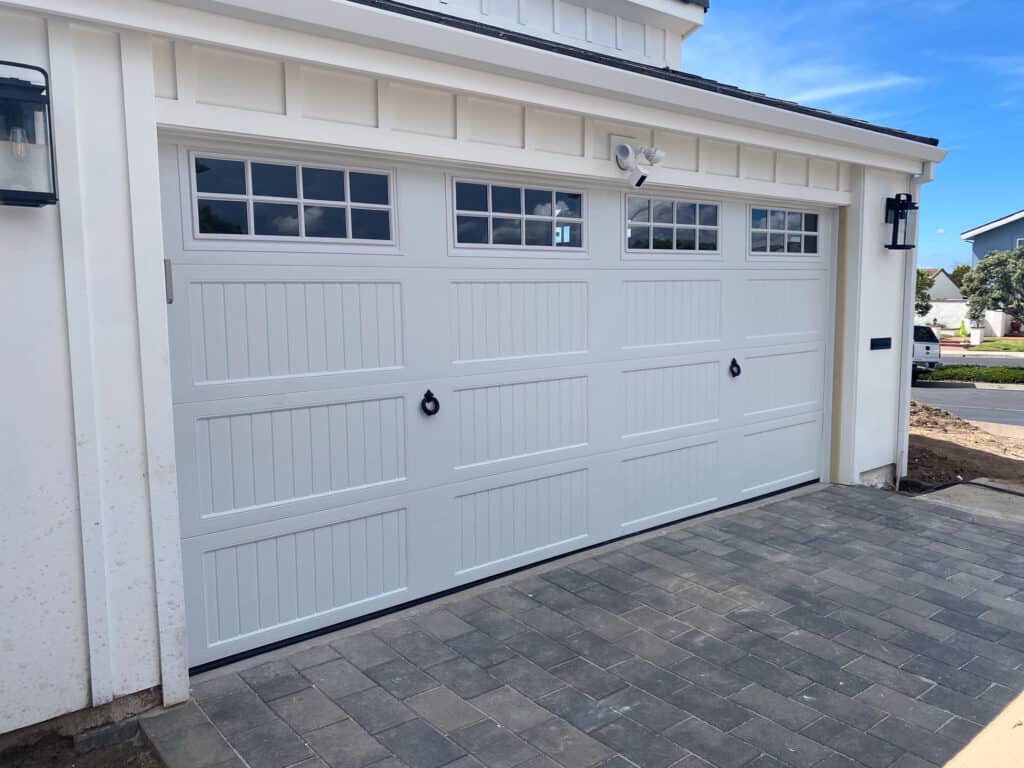 Reflecting Orange County's Modern Flair with Contemporary Glass Garage Door Design.
For the homeowner with a penchant for modern minimalism, contemporary glass garage doors are a striking choice. Typically framed in aluminum, these doors are a statement of luxury and sophistication. Not only do they let natural light bathe your garage interior, but they also act as a reflective canvas for the vibrant sunsets of Laguna Beach. Additionally, they are tempered for durability and can be frosted for privacy, marrying beauty with practicality in a design that's increasingly popular across the coast.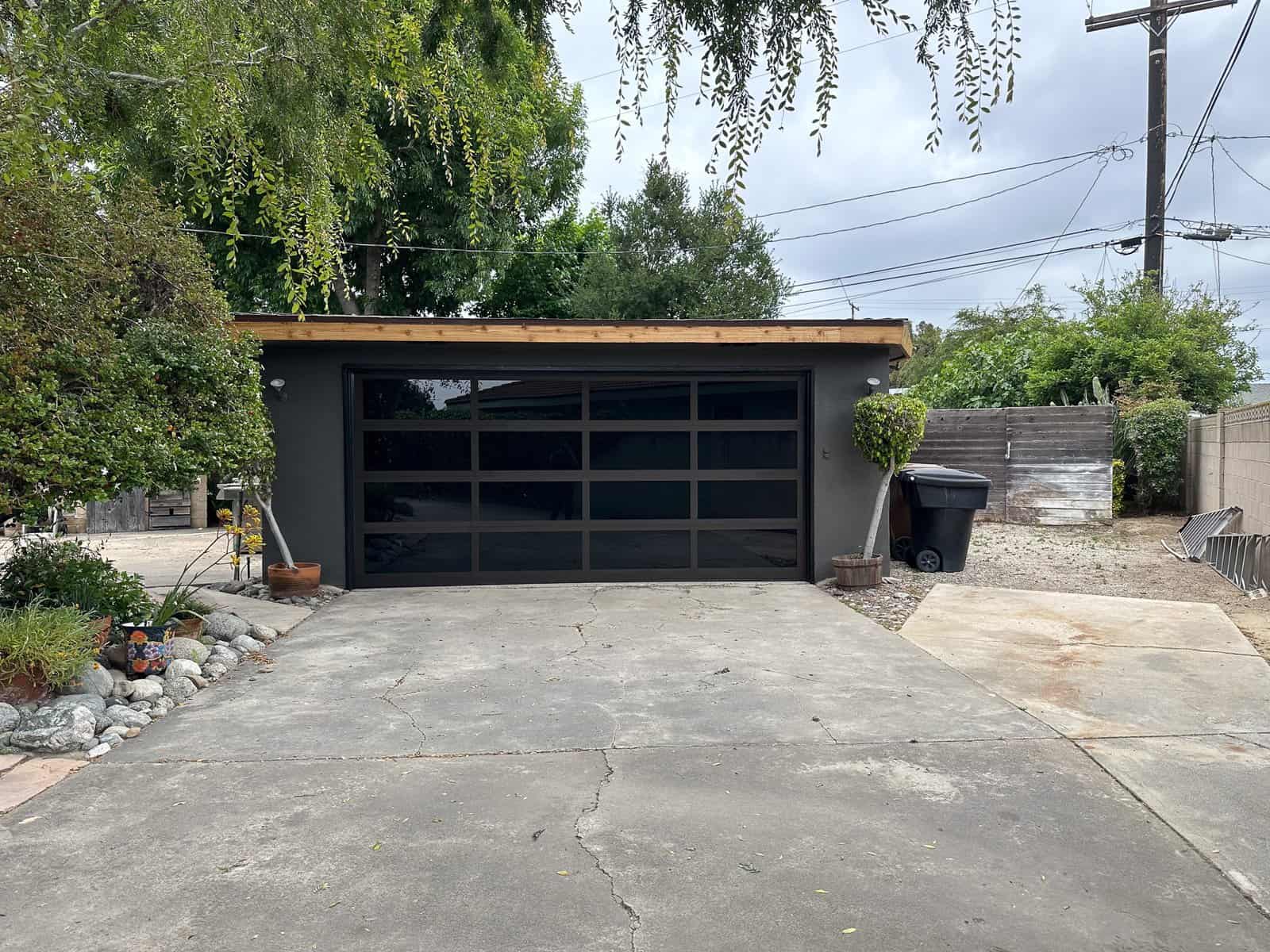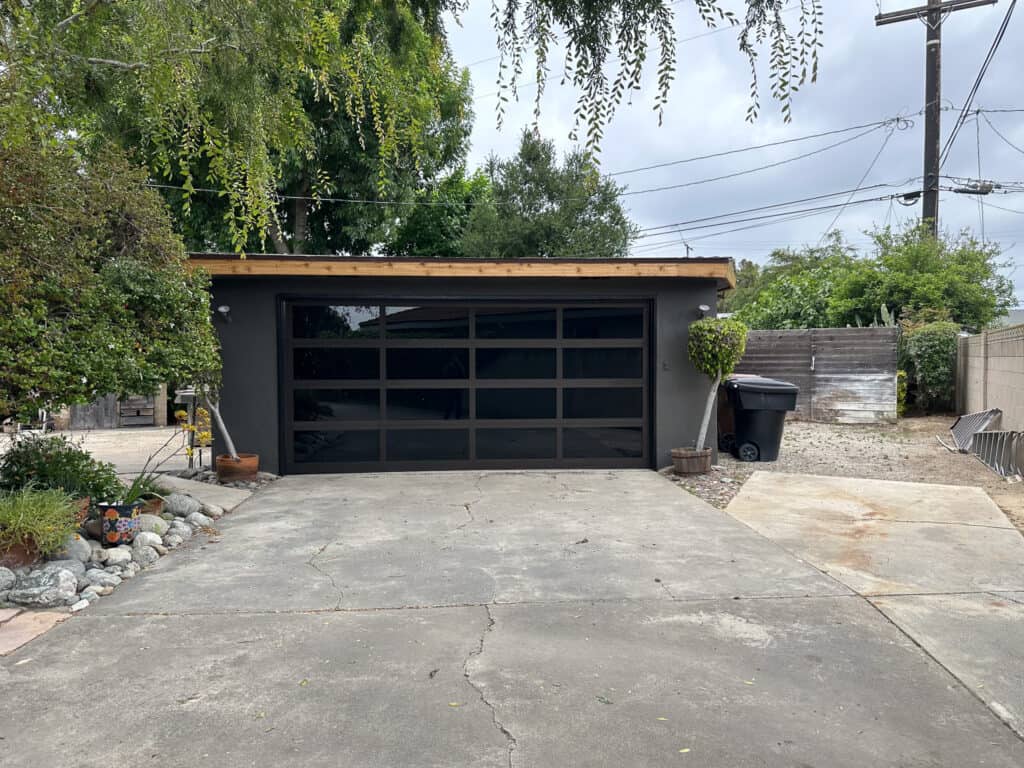 Custom Craftsman Doors: Artisanal Expression
Custom craftsman garage doors are the epitome of bespoke design, tailored to the individual style of your Orange County home. Whether you're in Fullerton's historic districts or the newer developments of Aliso Viejo, a craftsman door can be designed to reflect the unique architectural details of your residence. They often feature handcrafted woodwork, distinctive patterns, and custom hardware. Plus, they offer a warmth and authenticity that is hard to find in mass-produced options.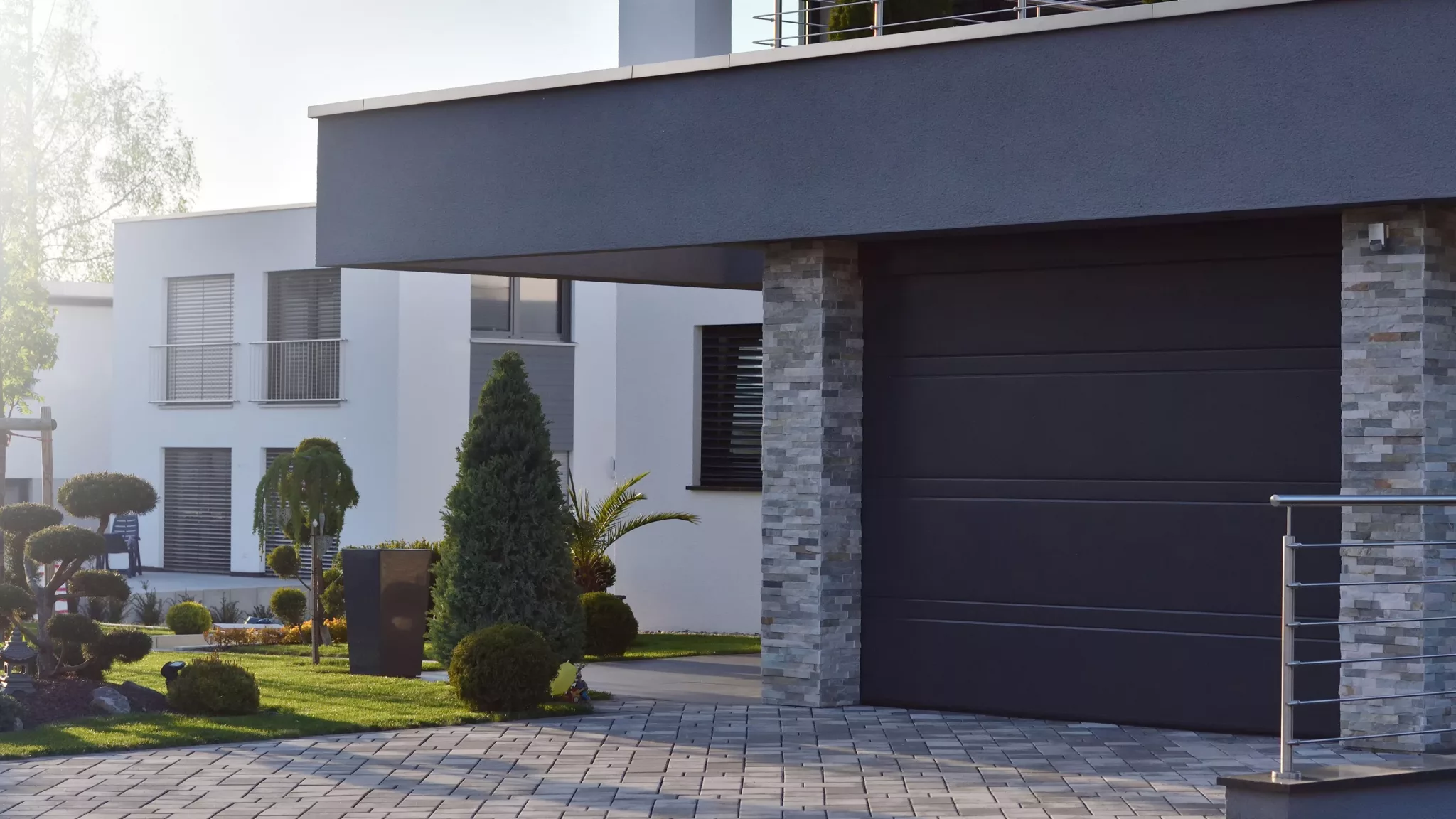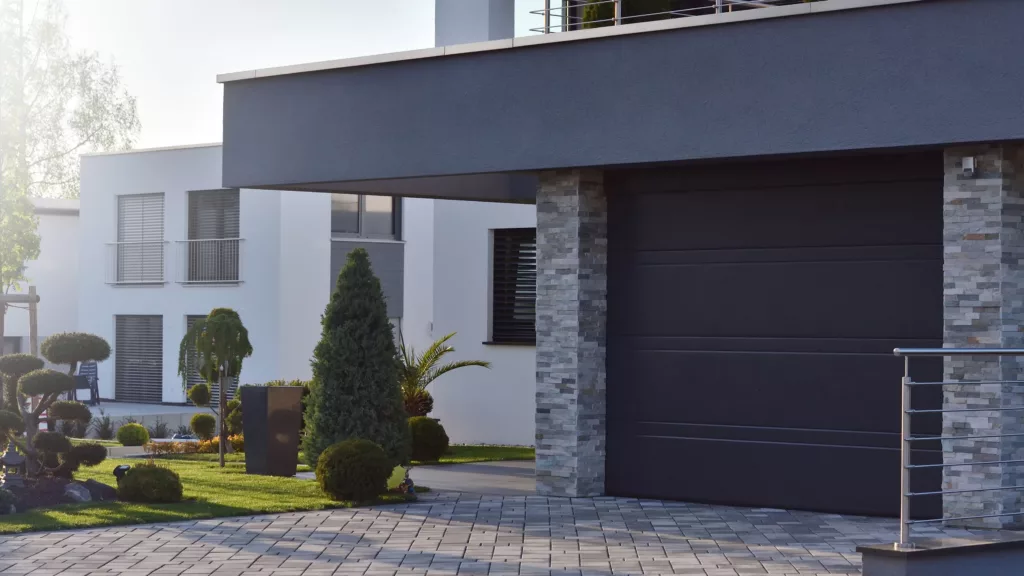 Personalized Design: Your Unique Statement
Beyond the popular styles, there's the realm of custom garage door design, where your vision comes to life without constraints. A custom design can harmonize with your home's architecture, reflect your personal taste, or even become a neighborhood landmark. This personalized approach allows for a selection of unconventional materials, bespoke patterns, and finishes that are as unique as the communities of Orange County itself. Learn more about
crafting your custom garage door design.
Each design carries its uniqueness and can be tailored to fit the varied exteriors found across the county.
Material Matters in Design
The material used in your garage door doesn't just dictate durability; it also sets the stage for design. From the classic allure of wood to the contemporary sleekness of aluminum and glass, each material offers different design potentials. Discover more about garage door materials and how they can shape the overall aesthetic of your property.
Conclusion: Harmonizing Design with Practicality
In Orange County, the right garage door design is a blend of aesthetic appeal and practicality. It's an artful choice that enhances curb appeal and complements your home's architectural style. At Urban Garage Door, we understand this balance and invite you to explore our diverse design options.
Ready to elevate your home with a garage door that's both beautiful and built to last? Let us guide you through the many garage door designs in Orange County. Connect with us today to craft the perfect entrance to your home.