Navigating through the intricacies of selecting, installing, and maintaining a garage door in Lake Forest requires a thoughtful approach. This stunning community, located in the heart of Orange County, California, presents unique characteristics with its diverse neighborhoods, specific weather patterns, and installation challenges. Let's dive into what makes Lake Forest special and how you can find the perfect garage door for your home.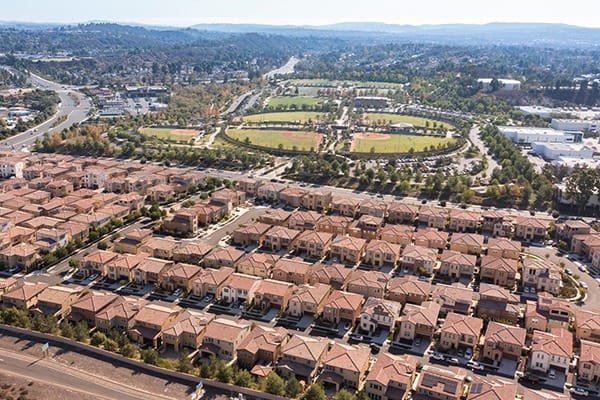 Embracing Lake Forest's Diverse Neighborhoods
Garage Door in Lake Forest: Matching Local Style
Lake Forest boasts a variety of neighborhoods, each showcasing its own identity and flair. From the upscale ambiance in Baker Ranch to the welcoming vibes in Foothill Ranch, the architectural diversity is evident. Influential design styles in this area include Spanish, Mediterranean, and contemporary themes, which play a pivotal role in selecting a garage door that complements the overall aesthetic of your home and neighborhood.
Adapting to Lake Forest's Weather Conditions
The climate in Lake Forest is predominantly Mediterranean, characterized by warm summers and mild winters. However, the coastal proximity can introduce humidity and salt air, potentially impacting your garage door's durability and functionality. Opting for materials resilient to corrosion is a wise choice, ensuring your garage door remains in top condition throughout the changing seasons.
Overcoming Garage Door Installation Challenges in Lake Forest
Navigating Through Local Regulations
Installing a garage door may present unique challenges, mainly due to specific building codes and regulations set by Orange County. Furthermore, homeowners associations in certain neighborhoods may have their own set of rules concerning exterior modifications, including garage doors. Awareness and adherence to these regulations are crucial, and seeking professional assistance can facilitate a smooth installation process.
DIY Maintenance and Knowing When to Call Experts
Homeowners can undertake some garage door maintenance tasks, such as lubricating moving parts and performing balance checks. However, for issues related to garage door openers, springs, or cables, it is imperative to contact professionals to ensure safety and proper operation. With over 12 years of experience, Urban Garage Door stands as a trustworthy and knowledgeable service provider for garage door repair and installation in Lake Forest.
Making the Right Garage Door Choice in Lake Forest
Tailoring to Your Home's Needs
The decision-making process for selecting a suitable garage door involves considering various factors, including material choice, insulation levels, style, and color. It is vital to choose materials that can withstand the local climate, and insulated doors should be considered for enhanced energy efficiency. Ensuring that the design harmoniously blends with your home's architectural style is also paramount.
Urban Garage Door: Elevating Lake Forest's Curb Appeal
When it comes to garage door services in Lake Forest, Urban Garage Door is synonymous with professionalism, expertise, and unwavering dedication. Their extensive experience, spanning over 12 years, positions them as a leading choice for garage door installation, repair, and maintenance. Entrust your garage door needs to Urban Garage Door and transform your home's curb appeal with confidence.

In conclusion, selecting a garage door is more than just a functional necessity; it is a crucial aspect of your home's character and aesthetic appeal. Trust in the expertise of professionals, consider the unique climate and architectural styles of the area, and make a well-informed decision to enhance your home's presence and functionality. The garage door in Lake Forest is indeed an investment towards elevating your living experience.