Navigating through the options for a garage door in Garden Grove requires a thoughtful approach, given the diversity in neighborhood styles and the specific weather conditions of Orange County, California. From the classic charm of the historic Main Street area to the more modern vibes of West Garden Grove, your garage door choice significantly impacts your home's curb appeal and functionality.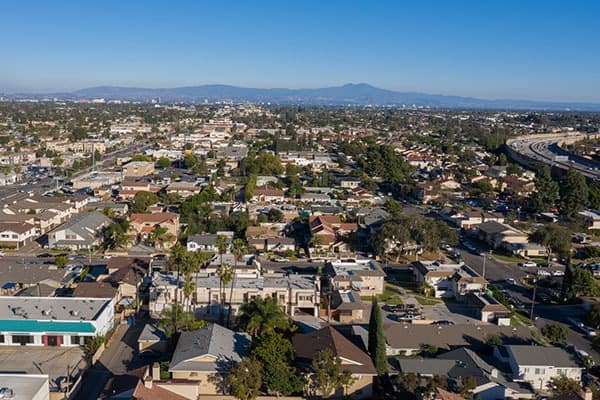 Syncing with Garden Grove's Style
Decoding Local Architectural Trends
Garden Grove presents a rich tapestry of architectural styles. It's crucial to align your garage door choice with your home's design. Carriage-style doors could be a hit for bungalows, while contemporary options might better suit newer constructions.
Elevating Your Home's Exterior
The right garage door does more than function well; it adds to your property's aesthetic appeal. Think about color choices, materials, and additional features like windows or decorative hardware to make a statement.
Weather Challenges and Your Garage Door in Garden Grove
A. Preparing for Mediterranean Climes
The city enjoys a Mediterranean climate, marked by warm summers and mild winters. This calls for a garage door that stands up to the occasional heavy rain and gusty winds. While metal doors are durable, they might need extra care to prevent rust. Wood, although beautiful, demands regular upkeep.
B. Keeping Up with Maintenance
A garage door in Garden Grove needs regular attention. Lubricate moving parts yearly and be vigilant for any wear or damage. For serious issues or routine checks, a call to professionals like Urban Garage Door is a wise choice.
Installation Insights and Upkeep Advice
A. Professional Installation: A Worthy Investment
While some might contemplate a DIY installation, a garage door's complexity usually calls for professional skills. With over a decade of expertise, Urban Garage Door guarantees a safe and precise setup.
B. DIY Maintenance: Keeping Things Smooth
You can play a part in your garage door's upkeep. Regular cleaning, balance checks, and part lubrication are all tasks you can manage, ensuring a longer life and smoother operation for your garage door.
Selecting the right garage door in Garden Grove is a critical decision, influencing both your home's style and functionality. Regardless of your neighborhood or home's age, balancing aesthetic considerations with practical weather resilience is key. For installations and more complex maintenance tasks, the seasoned experts at Urban Garage Door are at your service, ready to bring over 12 years of experience to your doorstep. Your ideal garage door solution is just a call away!