Santa Ana, a bustling city nestled in the heart of Orange County, is a community full of life and diversity. With the John Wayne Airport located just a stone's throw away, the city's rhythm is vibrant yet demanding, requiring homes and businesses to be well-equipped and maintained. Urban Garage Door is at the forefront, offering an extensive range of garage door services tailored to meet the unique needs of Santa Ana residents.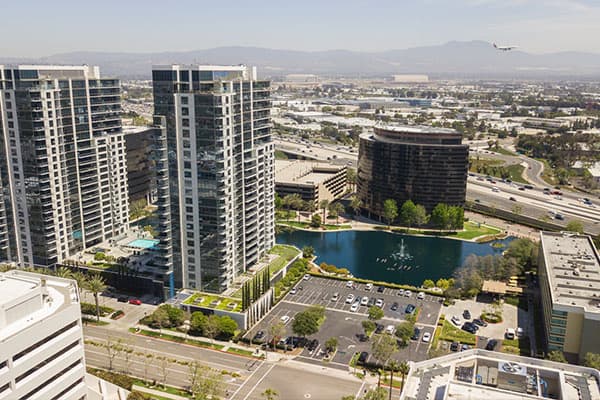 Prioritizing Your Peace with Noise-Reducing Strategies
Battling the Buzz: Addressing Airport Noise
The proximity of the airport, while convenient, brings about its own set of challenges, particularly in terms of noise. Neighborhoods like Morrison Park and Windsor Village feel the impact, with the constant hum of aircrafts in the background. This is where our specialized noise reduction and insulation services come into play, ensuring that your garage door acts as a barrier, keeping the noise out and the tranquility in.
Tailoring Solutions for Every Home
Whether you live in the charming historical streets of Heninger Park or the more contemporary settings of Artesia Pilar, our services are designed to meet diverse needs. Our team is adept at weather stripping, panel replacement, and garage door spring repairs, ensuring that every garage door in Santa Ana is not just a functional entity, but a fortified shield against noise and wear.
Ensuring Smooth Operation with Expert Repairs
Garage doors, like any other mechanical system, are susceptible to wear and tear. In Santa Ana, with its active lifestyle and constant movement, this wear can be expedited. Urban Garage Door specializes in cable repairs and drum replacements, ensuring that your garage door's mechanics are in prime condition, offering smooth and reliable operation day in, day out.
Bringing Back the Balance with Spring Repairs
Broken or worn-out springs can bring your garage door's functionality to a halt. Our expert technicians are proficient in identifying and rectifying such issues, bringing back the balance and efficiency to your garage door's operation. Whether it's a torsion spring or an extension spring issue, we have the tools and the knowledge to fix it promptly and efficiently.
Enhancing Curb Appeal with Aesthetic and Functional Upgrades
Elevating Home Aesthetics in Santa Ana
Santa Ana, with its eclectic architectural landscape, deserves garage doors that complement its unique style. Urban Garage Door offers a vast selection of designs and materials, ensuring that your garage door is not just a protective barrier, but also an aesthetic asset to your property.
Tailored Solutions for Every Style
From the historical charms of French Park to the modern vibes of Metro East, our range of garage doors is designed to cater to every architectural style prevalent in Santa Ana. Our team is more than happy to guide you through the selection process, ensuring that your choice enhances both the functionality and the visual appeal of your property.
Building Trust with Quality and Reliability
Urban Garage Door is not just a service provider; we are a community partner. As a family-owned business with over a decade of experience, we have built our reputation on the pillars of trust, reliability, and excellence. Our commitment to providing top-notch services to the Santa Ana community is unwavering, and our track record speaks for itself.
Choose Urban Garage Door for Unmatched Service in Santa Ana
Your Satisfaction, Our Priority
Our mission is clear – to provide the Santa Ana community with garage door services that exceed expectations. We understand the unique challenges that the city's residents face, and we are here to offer solutions that are not just effective but also affordable.
Connect with the Experts Today
Reach out
to Urban Garage Door today, and take the first step towards enhancing the functionality, security, and aesthetic appeal of your garage door. Let us be your trusted partner in ensuring that your garage door is in its best shape, ready to take on the vibrant hustle and bustle of Santa Ana.